After our staged exit from the ceremony, we milled around with our guests for a few minutes, and then somebody explained to them that we were all going to take pictures together. Since we only had 34 guests, we thought it would be nice to get a picture with each of them, in addition to pictures with family. I had imagined this taking place sort of organically as people stood around chatting, but everyone filed back to the courtyard and sat down in their seats again, looking to me and Patrick expectantly like we were about to entertain them. So we did…
This was probably the most awkward part of the day. We kind of had to run the show, which made me uncomfortable. I felt like a game show host, calling members of the audience to come on down and get a picture with their favorite newlyweds. Also, I made a faux pas when I started calling people from the back row and got to a fellow I had never seen before, sitting alone. I was like, "Next up… some guy!" He turned out to be my college friend's date, and I guess he didn't take kindly to being called "some guy." I think he thought I was making fun of him, but I just didn't know who he was. [I'll skip the picture to protect Some Guy's identity.]
Finally, after shooting every possible combo of family member and friend, we were directed to walk to the Morocco boat dock for our Friendship Boat ride to the BoardWalk. We wanted this to be a surprise for our guests, but I didn't notice any jaws dropping or gasps of delight. I think because boats are a common method of transportation at Walt Disney World, and because none of our guests really knew what to expect at the wedding anyway, this didn't seem particularly unusual to them. That's OK – it was one of my favorite parts of the day.
Because we had already taken pictures together, Patrick and I were going to the reception with our guests. That meant we wouldn't really have any time alone immediately following the ceremony. So the time we had together at the back of the Friendship Boat was a wonderful chance to connect and share our excitement about the ceremony and the reception to come. I tried to take in every detail of the trip over to the BoardWalk.
When the boat docked, Nathan and Sage leapt off and ran ahead – Sage to video us getting off the boat and Nathan to shoot the reception setup before we got there. Then our WP's assistant led me and Patrick and all the guests down the 2 1/2-mile hallway to the Attic (DFTW had been sure to impress upon us just how far the Attic is from the BoardWalk Inn lobby…). Thankfully, all of our guests survived.
We'd alphabetized our guests' mouse ears, which were laid out on a long table in the hall outside the Attic.
Except for Patrick's cousin, who had run ahead to start our iPod, Patrick and I were first into the room. When I saw our cake, my heart sank: The bakery got the design perfect, but the colors were awful – they were nothing like the picture I'd given my planner. Instead of bright orange and fuchsia, they were salmon and maroon – ick! Admittedly, the picture I'd given my WP was printed on an inkjet, but the color values of that print were correct, just a little washed out. I was kicking myself for not being as specific about the cake colors as I was with my bouquet. I later mentioned my disappointment to Nathan & Jensey, and they appear to have given my cake a little help in Photoshop – whoohoo!
Really, though, I have to give the bakery credit for the dead-on reproduction of the patterns on the cake. (I was told they had to change it a little bit so it wouldn't be a direct rip-off of someone else's design.) And we got lots of compliments on it!
Patrick made the cake topper!
I was also relieved to see none of the dreaded clouding of linens on the cake table (although the turquoise and orange sashes were too short and dangled halfway up from the floor. Not a good look…)
Patrick and I went out on the balcony and had a look around.
For the pre-reception (it can't really be called a cocktail hour 'cuz we didn't serve any booze) we had them serve the fruit platter and pastries included in our brunch buffet. It would have been way too much food to have all at once, and it saved money!
We got to the Attic a little bit earlier than accounted for in the BEO, so I kept feeling like something should be happening but it wasn't time yet. I felt this way for the whole reception, so I can definitely say that (without dancing) three hours is plenty of time for a casual reception. Finally it was 11:00, and Patrick and I started our first dance. We chose Sarah Vaughan's version of the Antonio Carlos Jobim tune "Wave." Besides having lyrics that fit us and the way we met, it starts out slow and romantic but has two up-tempo breaks that gave us a chance to surprise our guests with a few swing moves. Our reception playlists were mainly bossa nova music, and I worked two other versions of "Wave" into the mix.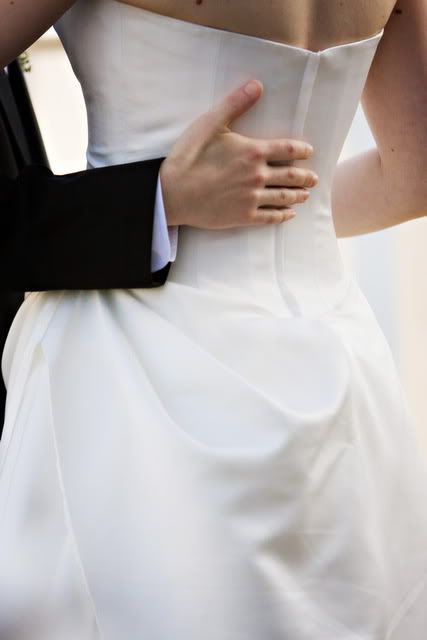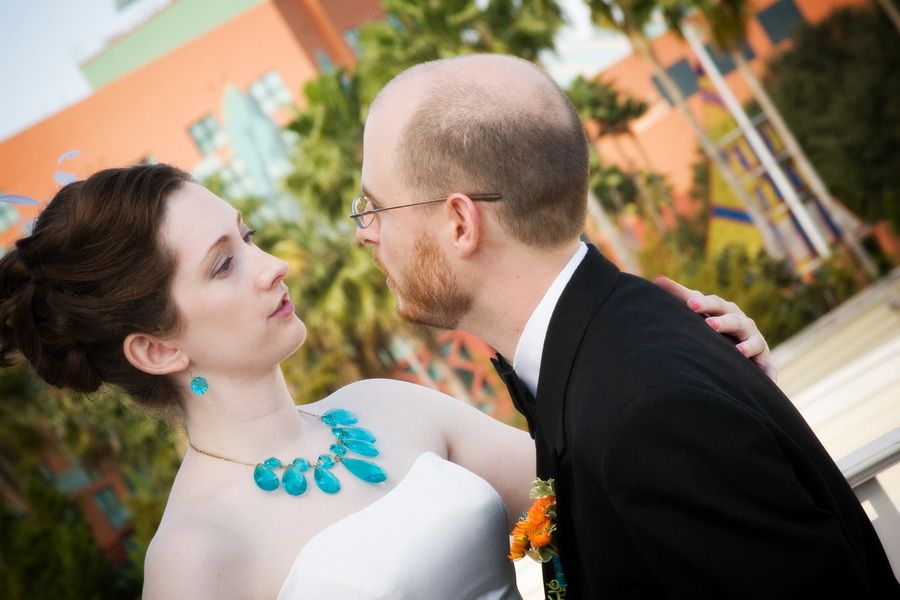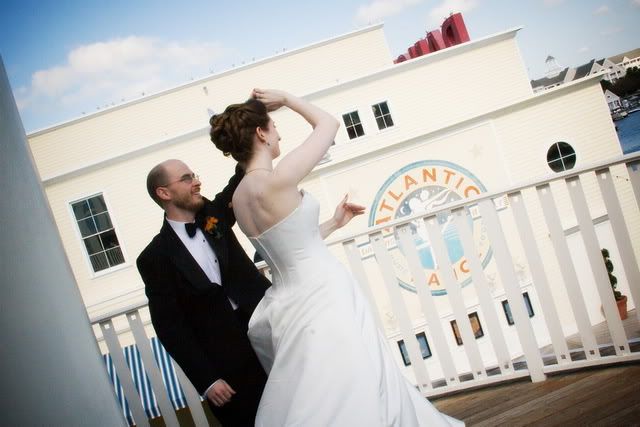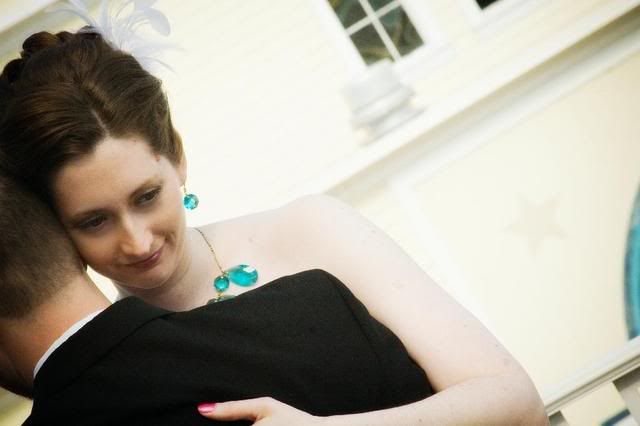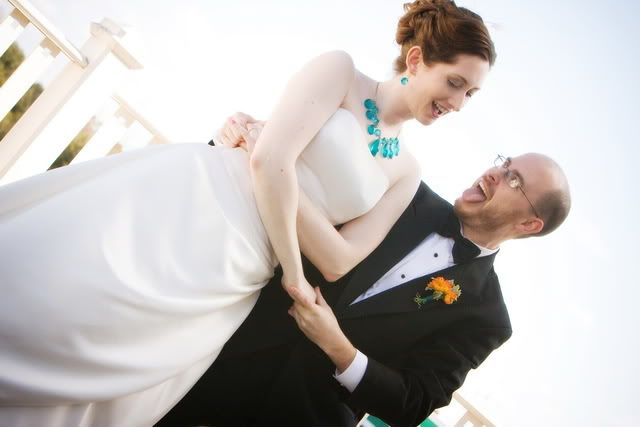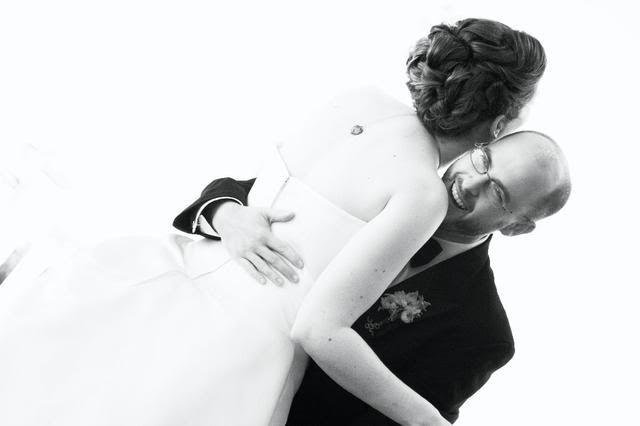 Using an iPod for our music worked really well. I created five playlists, one for each section of the reception – pre-reception, first dance song, brunch, parents' dances, rest o' the reception – so that we wouldn't have to search around for the first dance songs in the middle of the reception. We asked Patrick's extremely overqualified cousin (he's a sound engineer for Disney Feature Animation) to cue up each of our playlists at the appropriate time, and it all ran like clockwork. The pre-reception playlist was upbeat cocktail/space-age pop stuff: Henry Mancini, Esquivel, Arthur Lyman, Les Baxter, et al. The brunch playlist was mellow samba/bossa nova by artists like Joao Gilberto, Eliane Elias, Stan Getz and Elis Regina. The second half of the reception built from bossa nova to cocktail to Latin jazz and ended with "Love Theme" by Barry White's Love Unlimited Orchestra. (When I heard that one, I knew the party was winding down – but that's the only way I could tell!)
After our first dance, the BM gave an hilarious toast that was done entirely as a Jungle Cruise skipper spiel. He delivered it with his hand over his mouth to make it sound authentic – it brought down the house! Then the Mo'H and pastor gave toasts, followed by a brunch blessing by the pastor.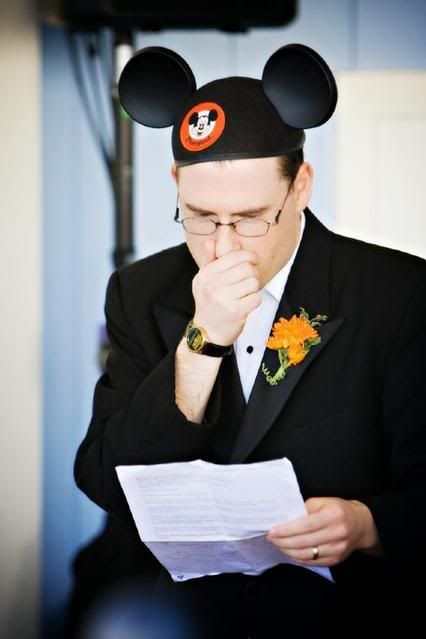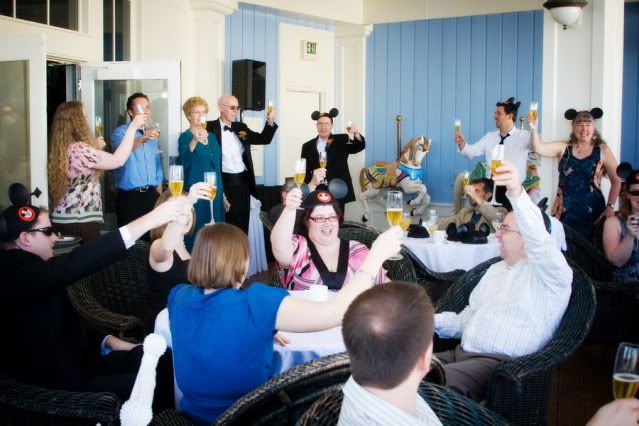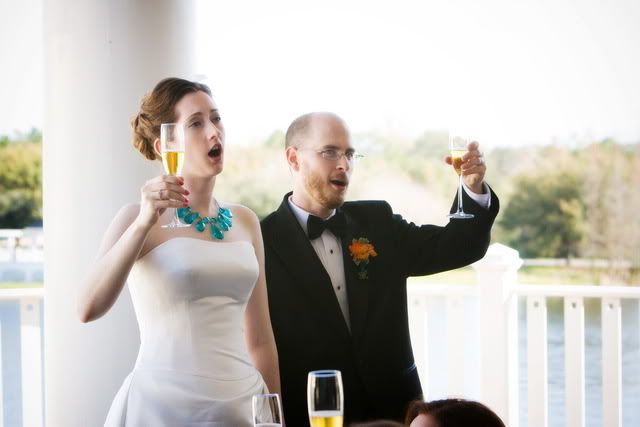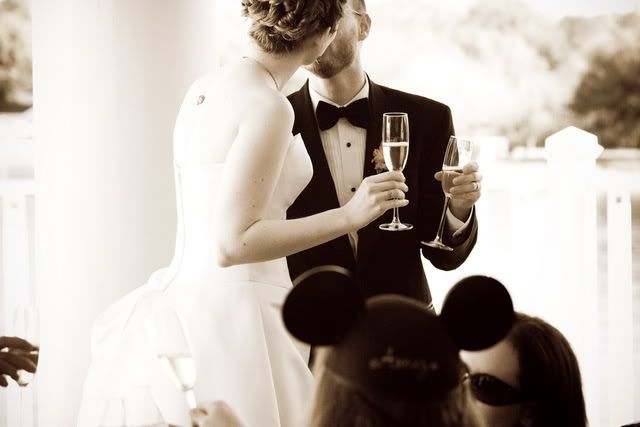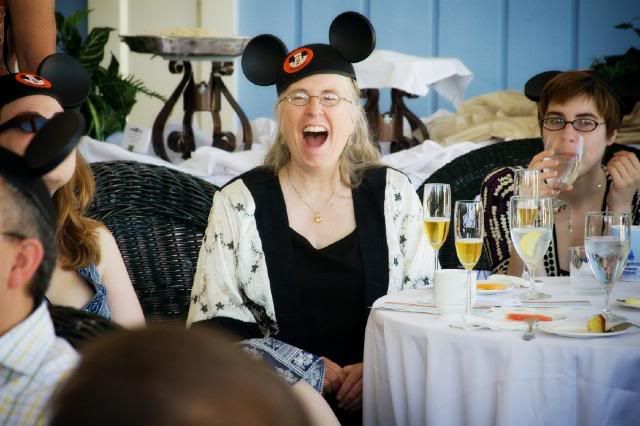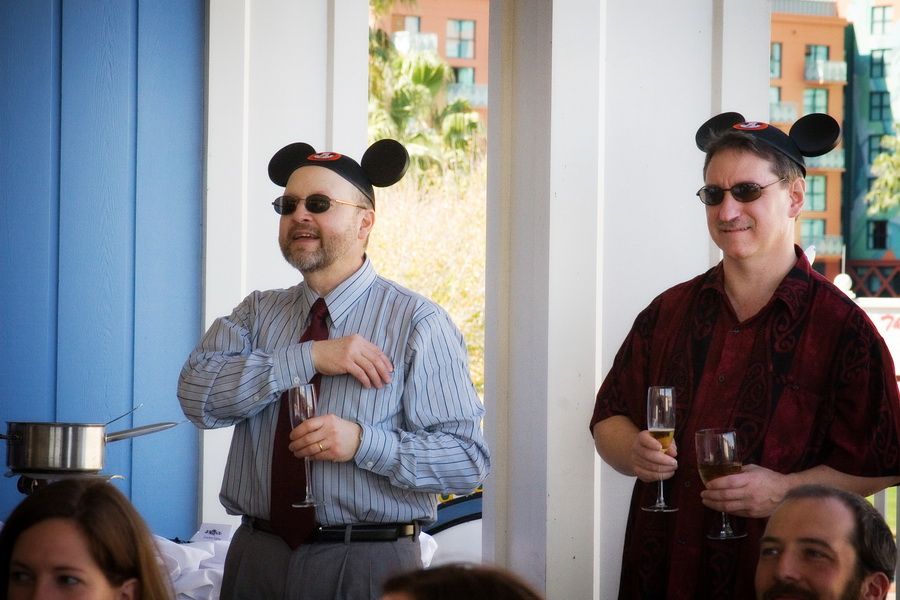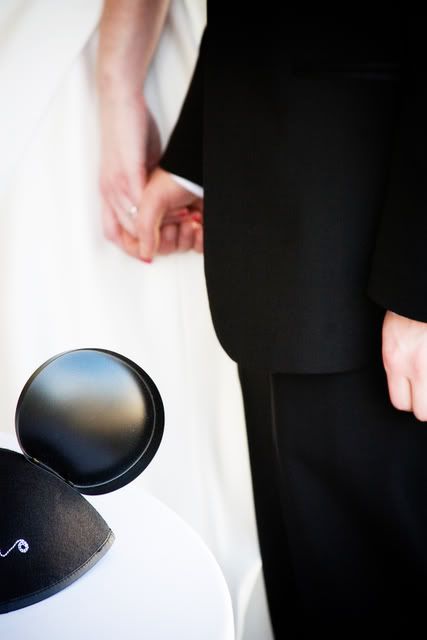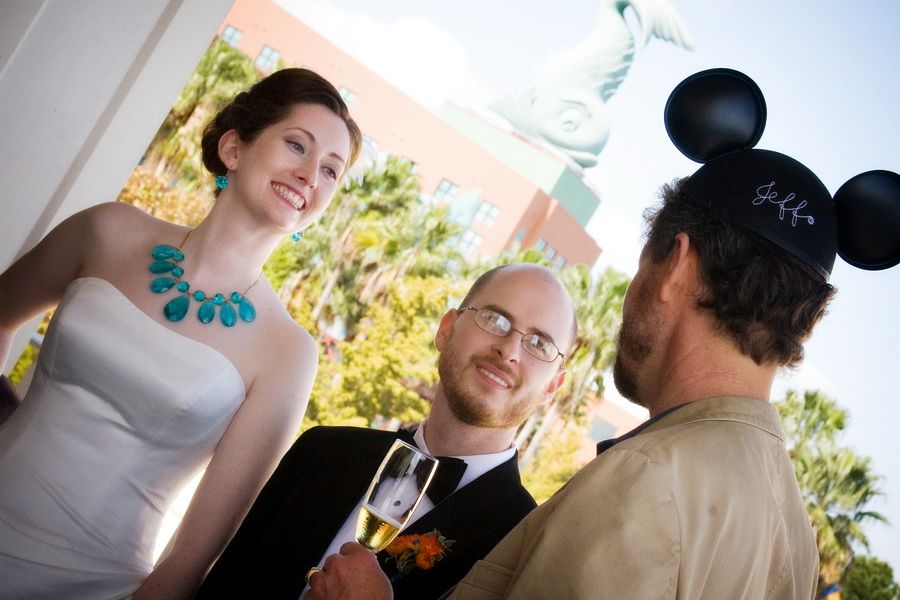 Then… brunch!
After they announced brunch, Patrick and I went over to the buffet, but there were no servers. I knew from reading trippies that someone would help us get our food, so I was kinda tapping my toe, but Patrick was surprised and impressed when they did materialize and help us load up our plates. We sat at a table for two in the corner of the room, next to the other set of doors that lead to the deck. I just realized we don't have any pictures of our sweetheart table, but I'm kinda glad cuz it wasn't much to look at – we had two ugly black banquet-hall chairs and a plain white tablecloth with just my bouquet in a vase. While we were eating, the paparazzi got to take a break and eat their icky DIsney deli plates, and – I later learned – Jensey started editing and Photoshopping our ceremony photos on their laptop. My WP disappeared, which I had expected (also thanks to trip reports) but would reappear occasionally to direct various events.
After brunch we had our parents' dances. I let my dad pick the song we danced to, since he's as into music as I am and he did have to dance to it after all. He picked one of his all-time favorite songs, an up-tempo jazz number by David Sanborn. It was really cute – he loves to cut out and send me articles, especially about musicians, so I guess I shouldn't have been surprised that when we started our sentimental father-daughter dance, the first thing he said was, "I just read this great article about David Sanborn!" We had tried practicing once, at Christmas, but I was still a bit nervous because he was a champion cha-cha dancer in high school and I only know swing. Fortunately he is a strong lead, so I think we did OK.
I'm so glad we danced before Patrick and his mom, because they would have been a tough act to follow. Neither really dances (well, Patrick can swing!), so they put on the Muppets' "Movin' Right Along" and improvised. They brought down the house!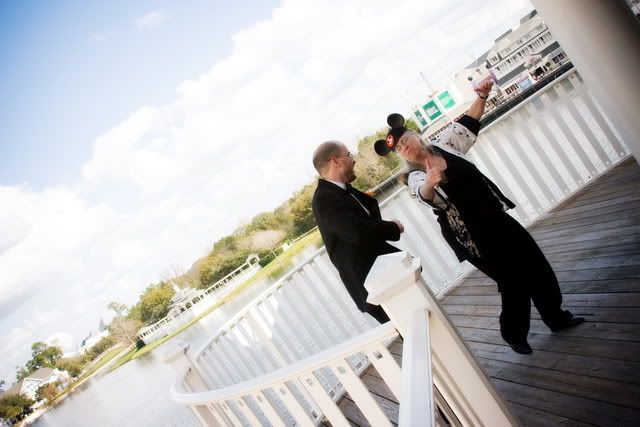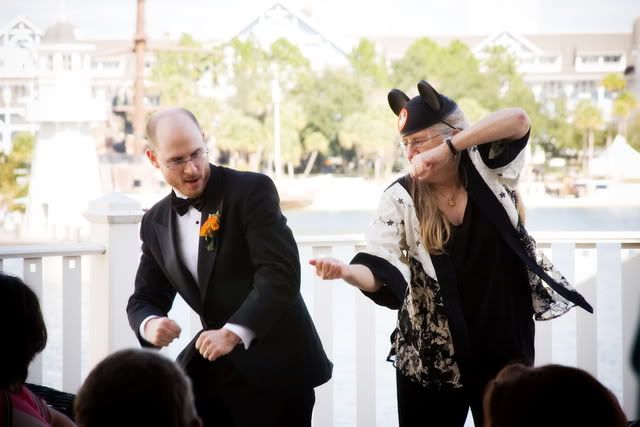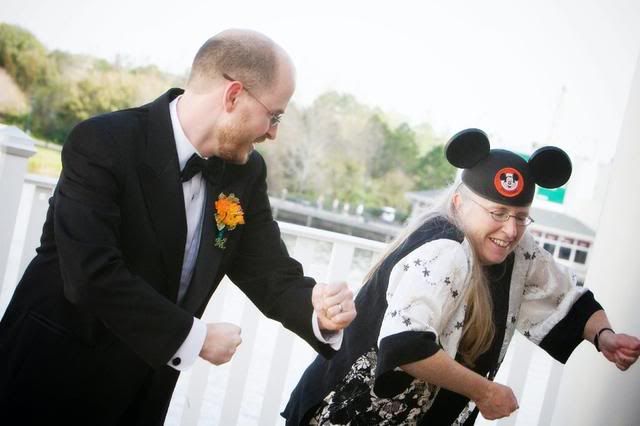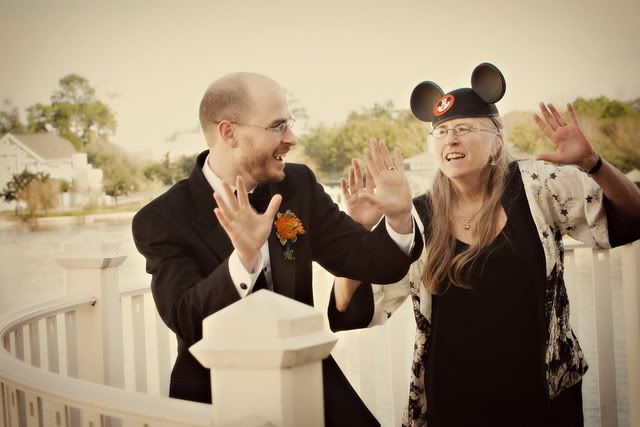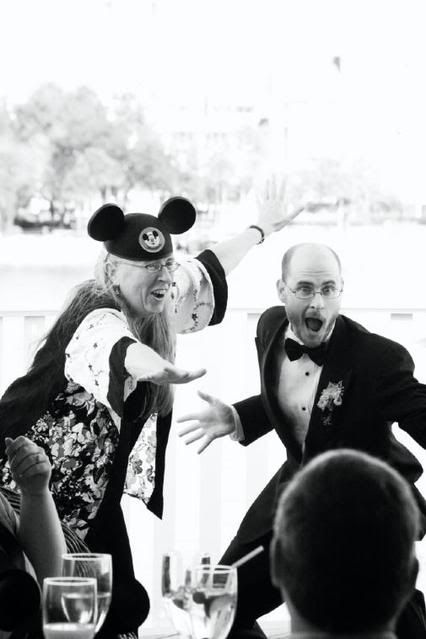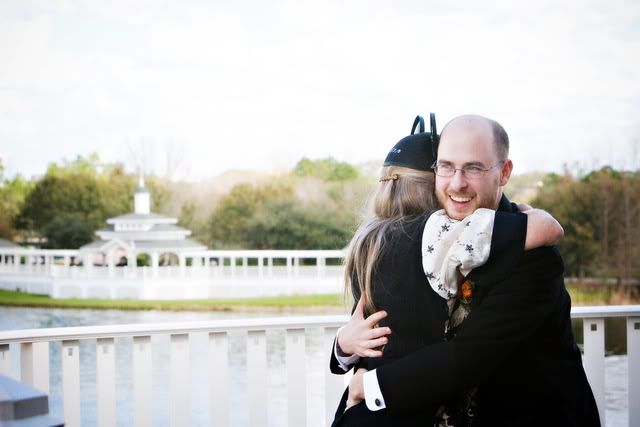 After the dances we asked everyone to put on their mouse ears, and we got a shot of all our guests.
I was ready to cut the cake after that, but my WP said we were a little ahead of schedule so we decided to wait. Waiting for cake is hard. When I couldn't wait any longer, I asked the servers if we could do it, and my WP magically reappeared to get the ball rolling. Somebody told us where to stand and whose hand was supposed to go where – who knew it was such a production? They handed us our pieces on a plate, and I was like, "Uh… where're the forks?" They found us some forks, and we each ate our own pieces – which got a huge reaction. We didn't mean for it to be a big statement, we're just creeped out by the feeding/smashing thing. Later, Patrick's grandmother came up to us and said very sincerely, "Thank you for not smashing cake into each other's faces. I think it's barbaric!" Then we had to wait for them to cut the real pieces and put the ice cream on. I don't know if it was the addition of ice cream or the flavors we chose (red velvet with cream cheese and chocolate with peanut butter cup mousse), but the cake disappeared fast!
After the cake cutting we still had an entire hour to hang out with our guests. We were ecstatic to discover that Nathan & Jensey had already put together a slideshow of photo highlights, which we must've watched three or four times.
Except for the pastor, who had to catch a plane, everyone stayed til the end of the reception (but that's prolly because the only way they could leave was on our bus… muwaahahahahahaha!). The staff gathered up our guest book, cake knife, gifts, extra cake and cake topper and put them back in our box by the door. I asked about having bell services schlep our stuff to the Beach Club (I'd read about a bride having them move stuff from Atlantic Dance Hall to BoardWalk Inn) but was told they couldn't leave the resort, so my in-laws graciously offered to take it to the Beach Club after the bus dropped them at their car. I cast a longing eye on the thousands of remaining unopened sodas, but I didn't want to make anybody carry all that.
I knew my Wedding Twin, Wendy, would be arriving at the BoardWalk soon to walk down to Sea Breeze Point for her wedding, so I was eager to get down to the lobby. We'd planned to scandalize DFTW and rip a hole in the space-time continuum by meeting on our shared wedding day and getting a picture together in our gowns. Patrick and I stood in the lobby saying goodbye to our guests (until the dessert party, that is), and they boarded the bus. I spotted Wendy's fiance in his pin-striped gangster suit and knew that she must not have arrived yet, because they would have moved him to the ceremony site. I think he gave me a hug – I remember being flattered that he even remembered who I was after a brief meeting at the Adventurer's Club. When his handlers told him it was time to go, I signaled my paparazzi and we went out to the front of the BoardWalk Inn to lie in wait for Wendy. I really did feel like I was waiting to meet a movie star – I was so excited! And when she arrived, Wendy looked like a movie star – she was so glamorous!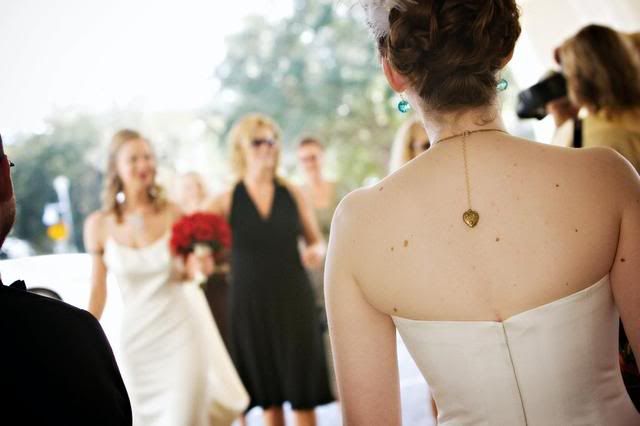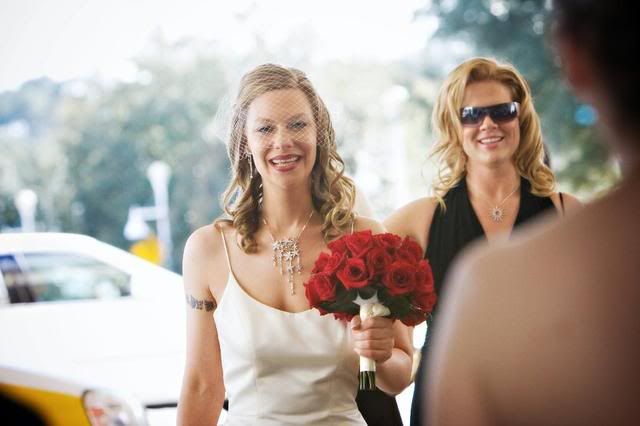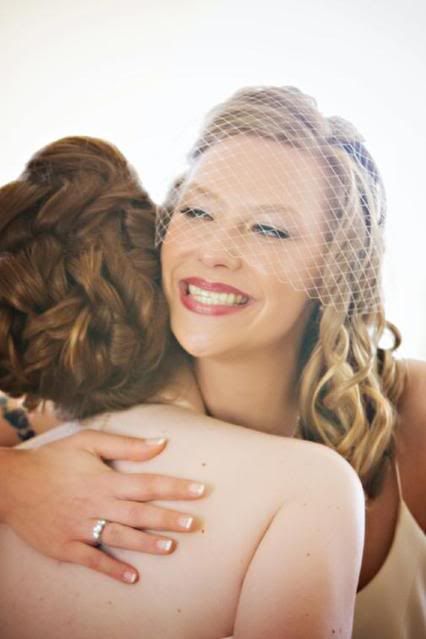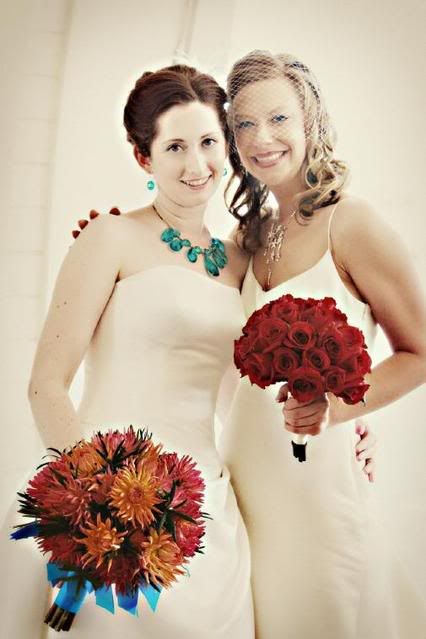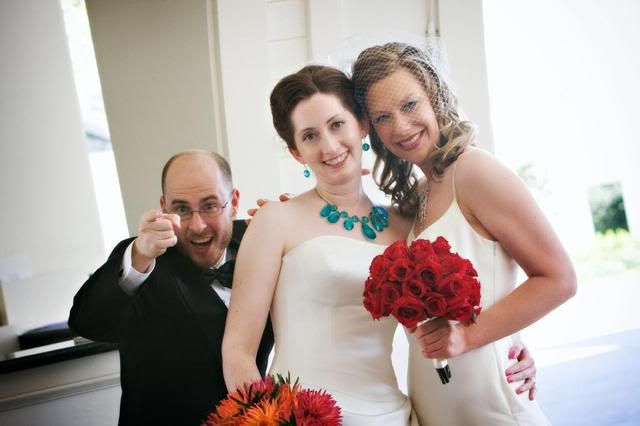 Patrick and I wished Wendy good luck and then went with Nathan & Jensey to get a few last shots. I couldn't believe they still wanted to take pictures of the Smoochingtons after all these hours (they told us at the reception that they'd already taken more than 3,000 – and the dessert party was yet to come!). I'm glad they did, though, cuz we got these….
At last, we let them go back home to their doggie, and we went down to the BoardWalk boat dock to catch a Friendship to the Beach Club. Sage followed us to shoot some footage, and we really lucked out – there was a boat about to depart when we got there, and when they saw us they held it so we could hop on. The skipper's jaw kind of dropped, and the passengers burst into applause as we got in the back, so we stuck our heads in the cabin and waved. It was so much fun! We went straight to the Yacht and Beach Club dock and were ushered off the boat first (I wish Sage had been there to film that!). As we walked back over to the Beach Club, we felt like celebrities – everyone was smiling and waving (or at least gawking), and two little girls ran up together and said "Congratulations!" simultaneously. It felt like the end of a movie, but it wasn't the end…