Our reception ended at 2pm, and we didn't have to be back at Epcot for the dessert party until 8pm. When we first started planning, I was worried about the festivities losing momentum because of this break, and we couldn't fix it because Epcot locations require 9am ceremonies. However, I am now so glad to have had this time in the middle of our day – it gave me and Patrick a chance to compare notes about the wedding and share our excitement, and it meant we had more wedding festivities to look forward to later that night. I think if we'd followed up a spectacular ceremony and spectacular reception directly with a spectacular dessert party, the impact would have been diminished (kind of the way the guests didn't bat an eye when we got on a boat because they'd been riding them all weekend!).
Patrick and I spent more than two hours just going over the events of the day and sharing the parts the other one missed. We were like a couple of giddy school girls! Then we took a nap, which we totally needed if we were going to make it through the dessert party. (Everyone always asks if I took my dress off between the reception and dessert party. The answer is "Heck yes!"). When we woke up, it occurred to us that all these delicious cookies and brownies we were having at our dessert party would taste even better with a big glass of milk. I figured anything was possible with Disney (that's right, even milk – dream big, ladies!) so I started looking for phone numbers. I didn't have my WP's cell, but I remembered it was Monday and DFTW's offices were actually open! I called my WP's assistant and asked if it was too late to add milk to our dessert party menu. She said she'd see what she could do. As it turned out, not only did we get milk, but our server saw the milk and assumed kids were coming to the party, so he brought glow cubes – cool!! At about 6pm we ordered room service and had a quiet dinner while I touched up and re-accessorized my outfit like Day-to-Night Barbie.
I had accumulated so many accessories during my search for The Perfect Look that I thought it'd be nice to get some use out of them. My eBay treasure trove:
(I turned out not to need the bolero – the weather was perfect that night – but I wore it anyway cuz everyone loved it.) Patrick and I walked from the Beach Club to International Gateway, where a guide met us to escort us into Epcot and UK Lochside, as they call it now. I was so excited to be wearing my dress inside the park! The dessert party location turned out to be perfect – it was down a meandering garden path that shielded it from the main walkway, and we were right on the water.
Patrick and I arrived so early that we had about 20 minutes to kill before the bus brought our guests. I was really impressed by the setup—sometimes, in pictures, the dessert parties look kind of… how do I describe it? Under the glare of the flash, the black chairs and the plain tables (unless somebody splurges for floral) make it look kinda like a convention event. But in person, it's gorgeous! The standard candles and white tablecloths looked perfect in the twilight, and even the black plastic chairs didn't bother me.
We decided to take a walk back to Morocco for old time's sake, and lemme tell you, I felt like such a rebel wandering around Epcot in my dress unescorted! When we got back to UK Lower, er Lochside, our guests still hadn't arrived, so we just enjoyed our moment together in this beautiful place… and loaded up a plate full of desserts to eat before we had to start posing for pictures! I'd heard too many horror stories of brides not getting to enjoy the food at their own parties, so I was sure to scarf down one of everything—and two and-a-half Chocolate Peanut Butter Marshmallow Squares! Please tell me someone has the recipe for those…!
When the first guests started arriving, Patrick and I positioned ourselves under a lamp on the pathway and greeted everyone as they walked in. They all made it but one, who didn't wake up from his nap til 9pm – d'oh! We had 30 minutes before IllumiNations to mingle with our guests, which felt like a nice amount of time. I was really pleased to get to speak in depth with my two friends who'd originally said they weren't into theme parks. (These are the ones for whom I'd compiled that list of alternative things to do in Orlando.) As it turned out, they spent a really nice day in Epcot and went to Celebration twice! They were just beaming – it was so nice…
Nathan & Jensey arrived about the same time as the guests and began taking practice shots so they knew the best way to capture the low-light setting. They also took a couple of fun ones where they'd shoot us and then wiggle the camera around to make a light effect.
Before the show started, my MIL came over and showed me all the bags she'd brought to smuggle out leftover desserts – we're talking grocery bags, here. It was hilarious!
Thanks to other brides' trip reports, I knew that in order to get the best pictures, we wouldn't really be able to watch the show, so I warned Patrick. (It was a little hard to resist turning around to gawk because neither of us had seen IllumiNations before, but we went back the next night to see it in its entirety.) We also used the standard Magic Kingdom portrait session directions as our guide: "Look at the camera, look at each other, kiss, repeat!" I have to admit, I am disappointed by how much smoke was blowing toward us that night – I didn't get as many clear fireworks shots as I'd hoped, but Patrick disagrees and says the smoke adds to the effect.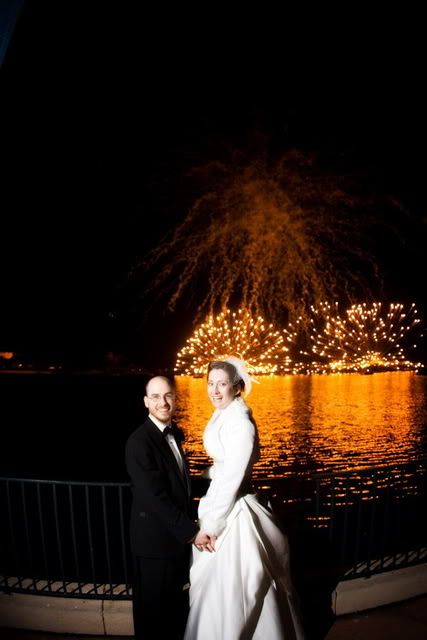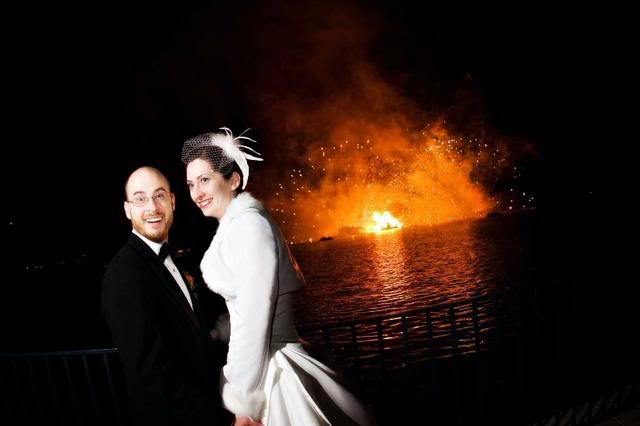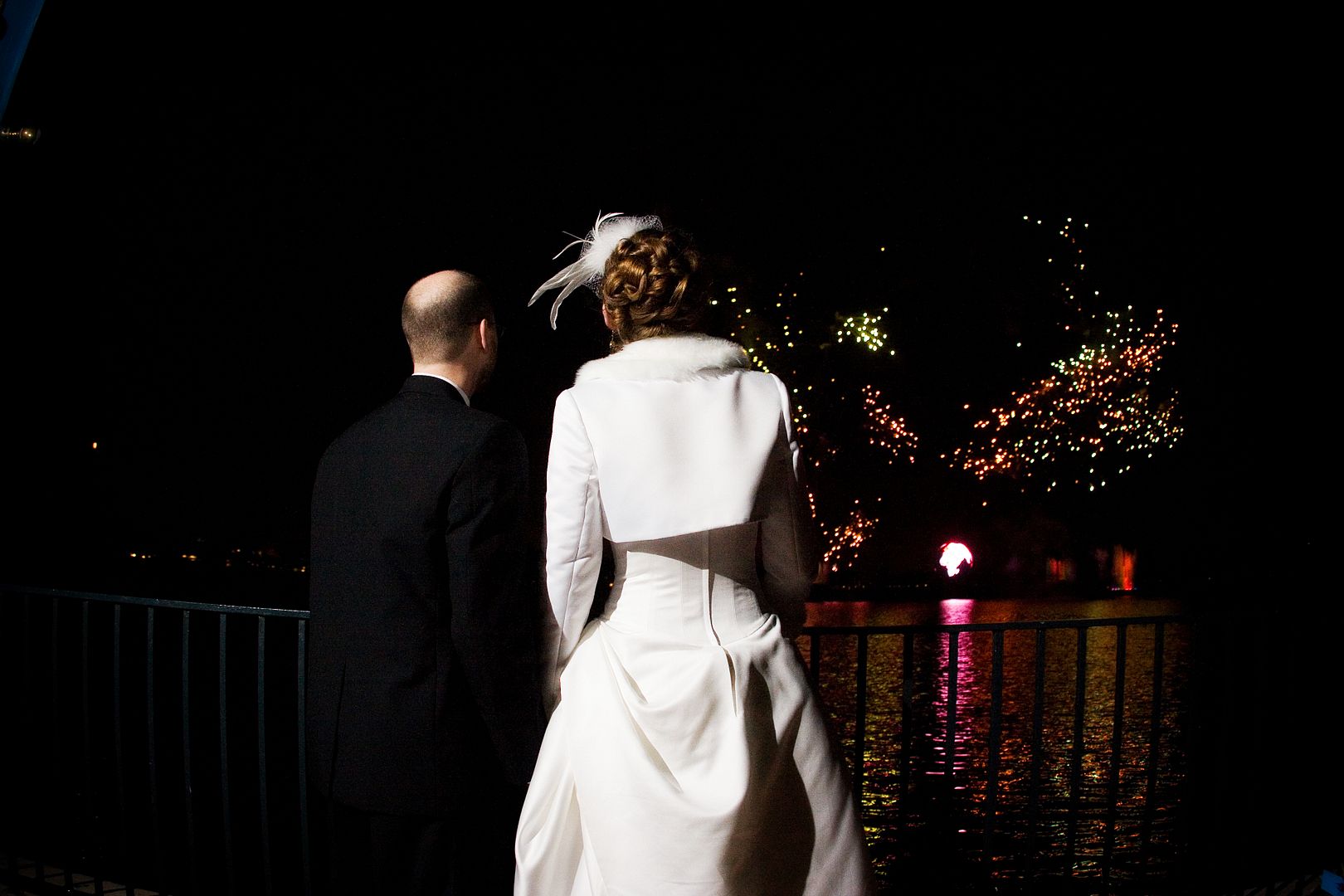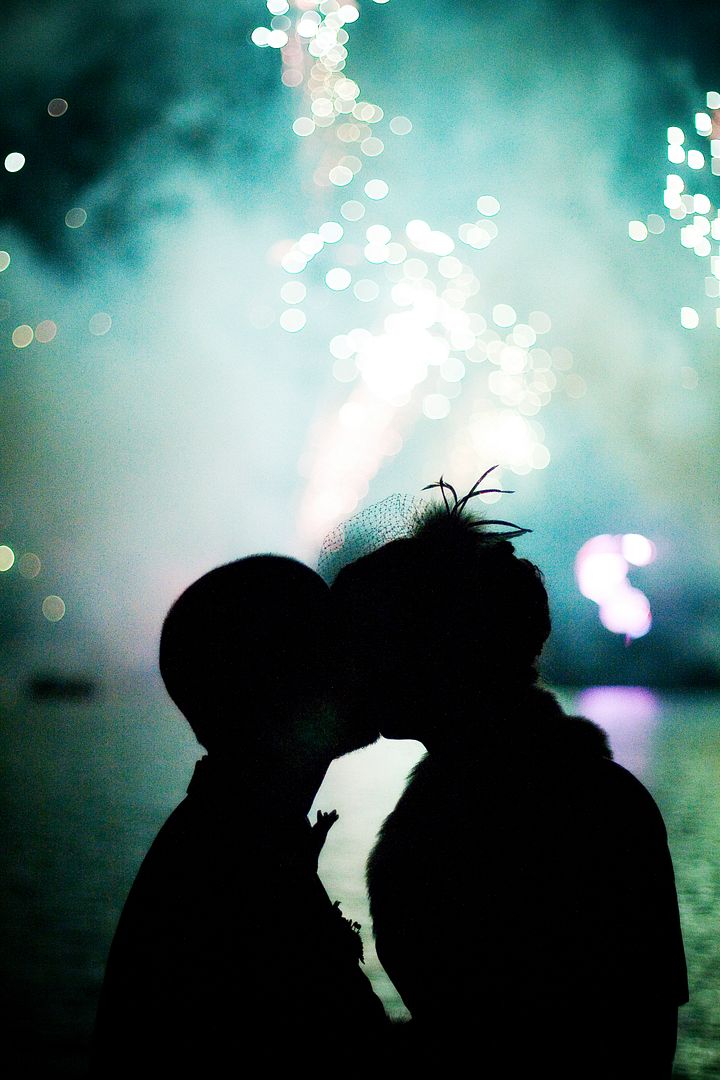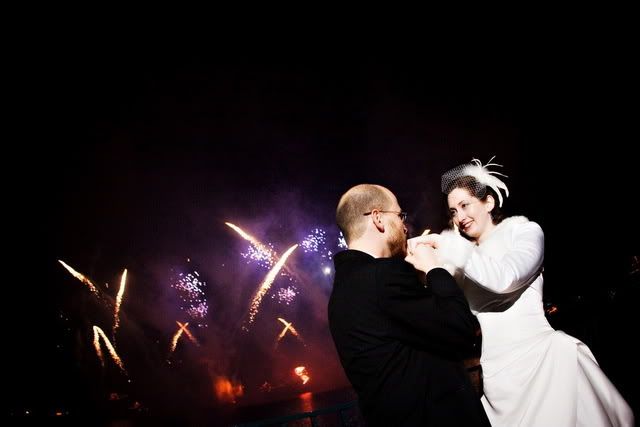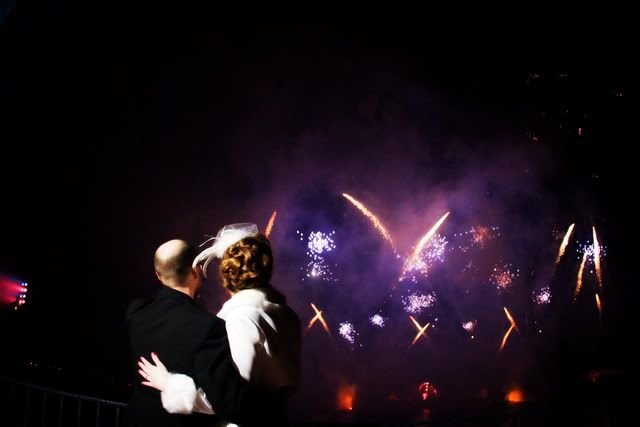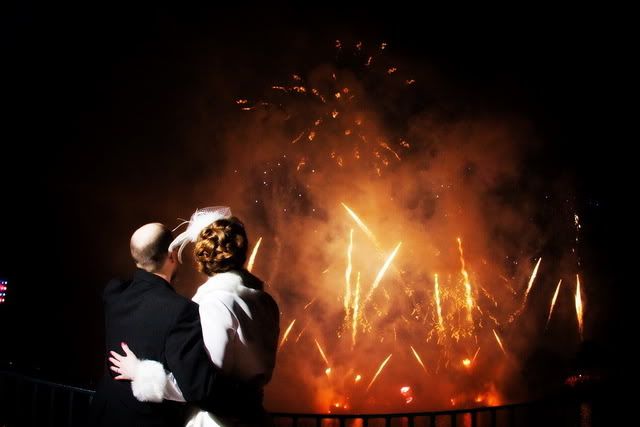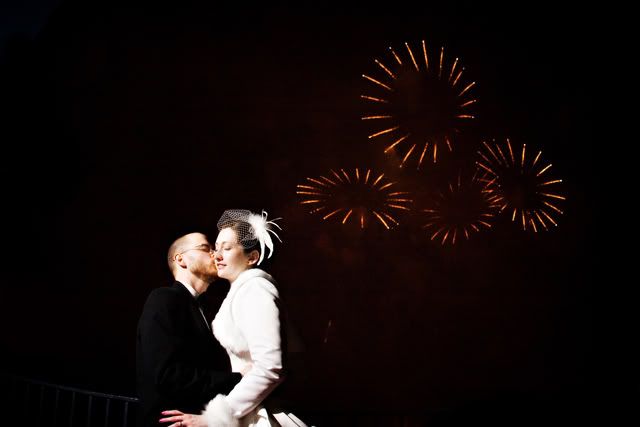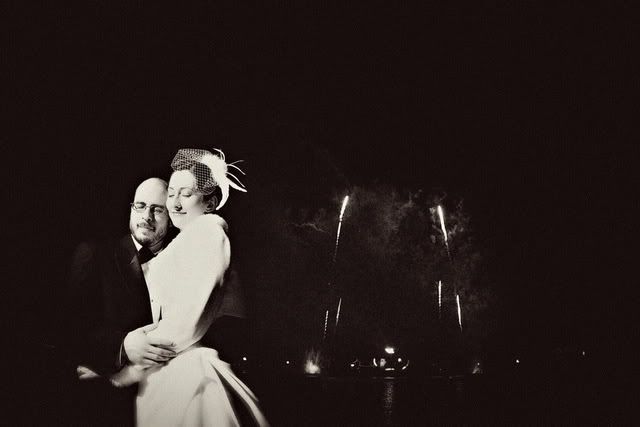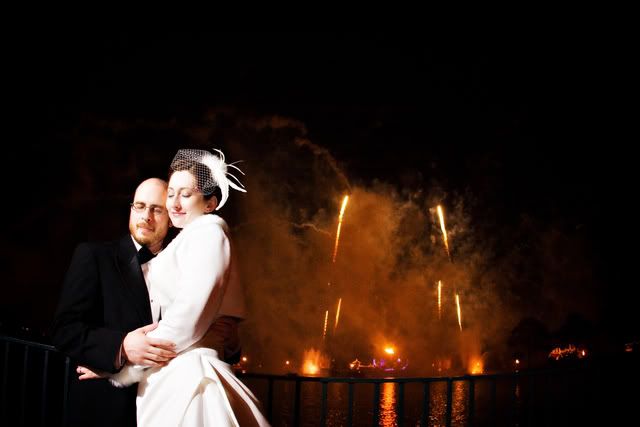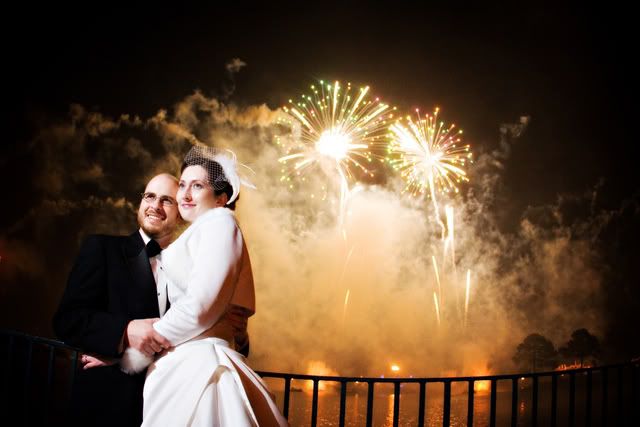 After the fireworks, we sat around chatting with our guests until the guide fetched them to get back on the bus. I wish I'd timed how long that was, because I know there was some discussion on the boards about how long you are allowed to stay at the dessert party site after the show ends. All I can offer is that I never felt rushed or like the evening was too short. And even though I didn't get quite as many fireworks pictures as I'd hoped for, I would do it all again in an instant just for the experience. It felt so special being in that secluded area by the lake.
Before she left, my MIL brought us all the leftover desserts she'd bagged. She had even asked the server if he had more behind the table, and he said, "Sure – take 'em. That way I don't have to throw them out!" That was justification enough for me… My MIL wanted to send all the loot back with us, but we insisted that she take some home too. I made sure to keep all the Chocolate Peanut Butter Marshmallow Squares though…
Patrick and I were the last to leave – I really didn't want to! But even the walk out through the International Gateway was magical, with so many people wishing us well and little girls all agog. I'm getting kind of teary just writing about it. It truly was the perfect ending to a perfect day!